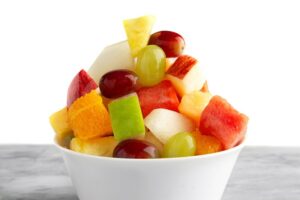 This range of products is for the food service industry and would include produce suitable for hotels, restaurants, industrial and event caterers to name a few.
All of these items are non-stock items and require a 3 working day lead to produce and deliver.
There is also a minimum order required. Prices are available upon request.
A sample of the current products we offer are as follows. We would be delighted to discuss any other requirements you may have.
Call Fiona on 01 4509524 to make an enquiry
Fresh Fruit Salad
Selection of Hand-cut Breakfast Fruits available in 5kg buckets:
Call Fiona on 01 4509524 if you would like to make an enquiry about this product or any other products on our website.